Aspen Grove has a treasure trove of fun for kids! Looking for something to do after school or a camp to cover a school break, we have you covered. With crafts, books, pampering, events, and yummy treats, come make memories at Aspen Grove.
SHOP ASPEN GROVE'S KID-FOCUSED RETAILERS!
Red Hen Createry – an arts and crafts studio for drop-in, birthday parties, kids camps, art classes and more.
The Thinkery Co-lab – a community space offering camps, workshops, and event space.
Butterscotch Grove – not just a cupcake shop but a dessert destination!
Timbuk Toys – a local, independent, toy store with a goal to connect you with the joy of play. Use their deluxe gift-wrapping option or sign up for their birthday club for a special discount.
Hallmark – a traditional favorite offering a huge selection of greeting cards, gift wrap, toys and gift ideas.
Anthony Vince' Salon – escape and rejuvenate with spa services for yourself or large groups, including a kid's menu for little princes and princesses.
Tattered Cover – an independent bookseller offering a variety of kids books, toys and story times.
Need a meal too? Check out our restaurant mix offering kid-favorites and kid's meals! (link to AG restaurant page)
FUN THINGS TO DO:
Red Hen Createry Calendar of Events and Activities
Timbuk Toys Activities and Events
Tattered Cover Book Store Events and Kids Books Club
Carson Nature Center Programs and Classes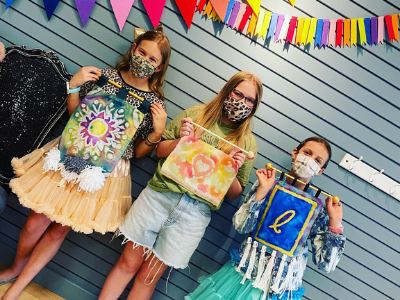 BOOK A PARTY
Aspen Grove has the perfect birthday party package for kids and teens!
Book a birthday party at Red Hen Createry and get 15% off at Timbuk Toys and Butterscotch Grove! Red Hen Createry will host the event and provide a fun, craft activity, then share a discount on cupcakes at Butterscotch Grove and on gifts or favors at Timbuk Toys to pull it all together!
Book your party at: www.RedHenCreatery.com or email info@redhencreatery.com
Timbuk Toys offers a Birthday Club for kids 10 and under. Click to signup and receive a $10 discount by email on your birthday!