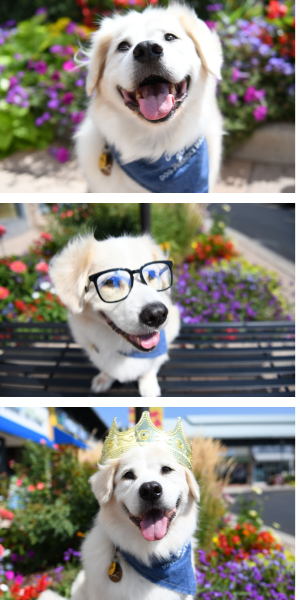 DOG-FRIENDLY SHOPPING
Your pooch is welcome here!
Many Aspen Grove shops open their doors not only to you but also to your furry shopping buddy. To provide a great experience for everyone shopping at Aspen Grove, please follow these guidelines for Canine Companion Conduct:
Look for Leonard's "Welcome" decal in the front window or doors of participating stores that allow and encourage dogs to come shop.
Canine companions should be leashed or in a carrier while shopping – do not leave animals unattended.
All dogs should be socialized and able to interact in a friendly manner with other animals (and humans, too!)
Pavement and sidewalks may be hot during summer months. Be aware of sensitive paws!
Keep your dog hydrated. Many shops offer doggy water bowls.
Always clean up after your pooch! Waste bags are available in the planters.
Need some shopping energy? Many shops offer treats – even the drive-thru at Chick-fil-A.
Remember even in the winter, cars can heat up quickly, roll down windows and provide water if your dog must stay in the car for any amount of time.
When shopping with your dog at Aspen Grove, snap a photo and tag it with #AspenGroveLovesDogs –you may see your furry friend in a future Aspen Grove post on Facebook or Instagram!
Aspen Grove is proud to partner with the Humane Society of the South Platte Valley. We host dog-friendly activities throughout the year to raise funds to support our local non-profit shelter and to help connect animals to their forever home. Join our email list today to stay informed of fun events for you and your pooch.
As the 2021 Dog-Friendly mascot for Aspen Grove, Leonard was awarded his own photoshoot! He was ready for his close-ups and willing to wear props as long as he got plenty of treats along the way. Check out his modeling portfolio below! Select shots will be used to promote our dog-friendly shopping, dining and event options at Aspen Grove.
Leonard Flipbook